Join me in celebrating water in our lives! Saturday, March 16th, at 11:00 am – 4:30 pm and Saturday, March 23rd, at 11:00 am
Bisia Belina, Helene Demers and Serap Brown met last year through their love for water and have collaborated in planning community celebrations of water in our lives. They met many others on the way who were already working for/with water and are grateful for their support. Dancers who dance for water, musicians who sing for water, and poets who write for water joined in the celebrations. The Royal BC Museum, the Social Sciences Humanities and Research Council and the Art Gallery of Greater Victoria supported their efforts and made the following community events possible.
Bisia, Helene and Serap invite you to connect through water and join in the celebrations. The video of "Water" that was performed in Sound is a Wave in November 2017 has begun to find it's place in the world and will be showcased on March 16th. Part of the event is free or by donation and part requires a ticket. For more information visit: https://royalbcmuseum.bc.ca/visit/events/calendar/event/107967/world-water-day
(A special thanks to Anna Malkin of dovetailmediaworks.com for all the amazing production & videography work on the "Water" Video)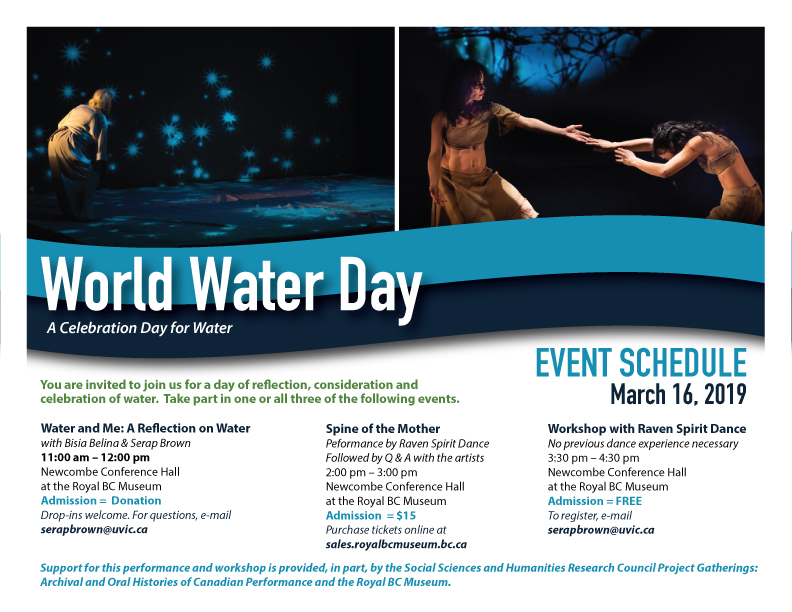 Join me as well in this FREE community event on March 23, 2019 at 11:00 am. Come Sing for Water!