What comes next for me (Bisia) after the incredible accomplishments of last year with Sound is a Wave?
Well…my wave continues to move forward and onward and in ways I did not expect.
Two of my artistic compositions, Toi Moi & Water that were in the show Sound is a Wave are now completed videos. I have been applying for different grants so that I could present them again and possibly with an installation.
Both of these pieces are multilingual translations. Toi Moi is important because it asks the question: Can we become "us?" If we want to change the things that are not right for water, we need to become "us." Water is an "us" issue.
Water
Toi Moi
Serap Brown is facilitating an event in March in Victoria to raise awareness on preciousness of water. Water Week is March 15-23, 2019. More details to come on this offering as the planning of the event is still taking shape.
Also, Anna Malkin (videographer) and I received a Green Light Grant from Flux Media Gallery. We will receive support to work on a project using Media Nets wonderful space. We will be re-filming "Toi/Moi" and creating an art installation that will be part of the video experience. Yummmmmer!!!
And what else is "up and coming" you ask?…
Pauline Karch had an idea to introduce me to actors Brett McDonald and Brooke Cameron…and Moving Voices became a troupe after our first session!!! Together we will be putting on an evening improv performances at Intrepid Theatre on January, 9th, 2019 at 8:00 p.m. with special guests Entertainment Village and First Time Last. The show will be an exploration of improvised voice, sound, movement and theatre.
This is out of the box and so I love it!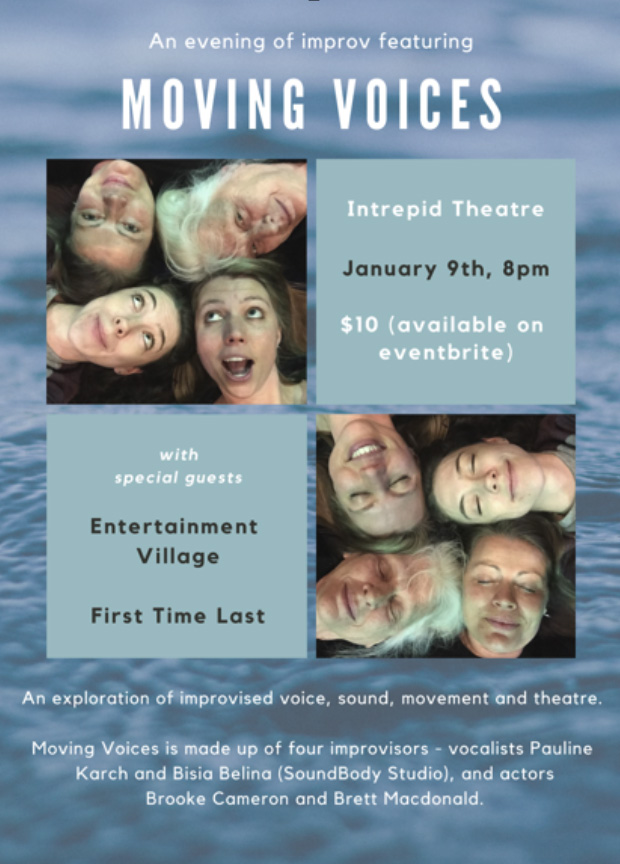 Tickets are only $10. You can purchase your ticket online through Eventbrite at:
https://www.eventbrite.ca/e/moving-voices-an-evening-of-improv-tickets-53674288241
Get your tickets early, I am told they have sold out shows!