Sound is a Wave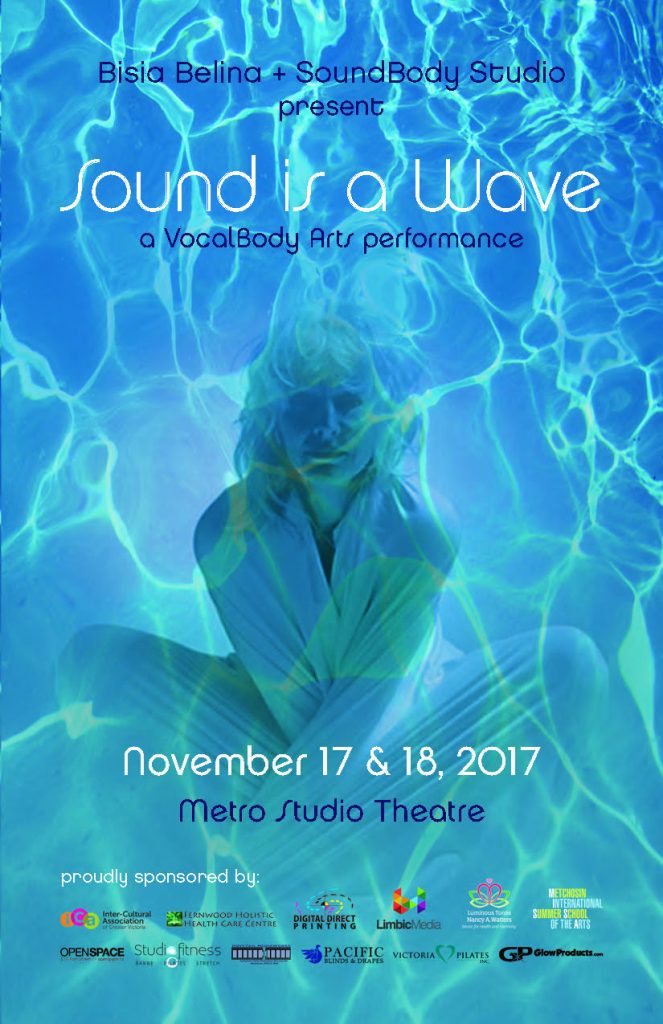 ---
This fall Bisia Belina and SoundBody Studio will be presenting a VocalBody Arts performance called: "Sound is a Wave."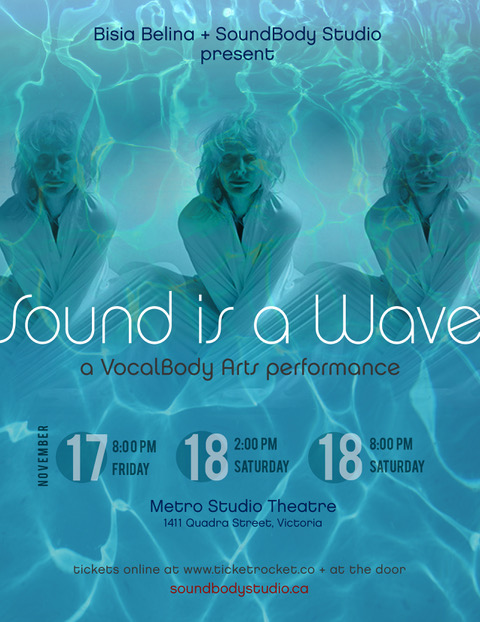 Join us November 17 and 18, 2017 for two evening shows and a matinee performance at the Metro Studio Theatre in downtown Victoria (1411 Quadra Street).
Ticket prices are as follows:
Early Bird = $27.50 (before October 10)
Regular = $30
At the door = $32
Tickets are available for sale through
Ticket Rocket
. You can purchase tickets online or direct from the box office. PLEASE NOTE: There will be a service charge to purchase tickets through Ticket Rocket.
Partnership & Program Advertising Opportunities are available for those that are interested in supporting this community production.
Contact Bisia Belina at 250.384.1133 or bisia@shaw.ca for more information.
A SPECIAL THANKS TO THE FOLLOWING SPONSORS FOR THEIR IN-KIND DONATIONS


---
RELATED BLOG POSTS & UPDATES
(October 16, 2017) NEWS RELEASE: Sound is a Wave Multi-Media Performance Nov 17 & 18
Victoria – Waves are everywhere. Waves are us. People wave "Hello" to start a human connection. Waves determine our experience of sound, water, and light.
In November, artist Bisia Belina will present a voice, movement, light, and sound performance event called Sound is a Wave to explore the themes inherent in waves travelling through air as sound, and waves moving as water.
It will connect sound to light (and music and movement) so it can be seen by others.
The multi-media delivery of the story helps audience members experience the message presented by 10 performers in nine compositions. Sound is a Wave is a new music form creator Belina calls VocalBody Arts; the performance is 90 minutes long, with an intermission.
Sound is a Wave also explores the notion of claiming your voice, enabling each of us to speak up about what we believe.
The performance event will also explore the waves in water and how people need to make political and social waves to protect the integrity of the life's essence. It will also examine the nature of sound waves as words and language, and how translation can aid our understanding of ourselves.
Belina is a performance artist with a performance background in vocal jazz. Also a registered massage therapist, she conceived and developed VocalBody Arts and is the founder of SoundBody studio, offering improvisational voice and movement solutions to life's challenges.
WHAT: Sound is a Wave, a VocalBody Arts multimedia performance event
WHO: Bisia Belina and friends
WHEN: November 17 and 18
WHAT TIME: 8 pm Friday 8 pm, 2pm and 8 pm Saturday 2pm and 8 pm
WHERE: Metro Theatre 1411 Quadra Street, Victoria, BC V8W 2L2
HOW MUCH: $27.50 early bird, $30 and $32, at the door
For more information, contact bisia@shaw.ca
——————————————————————————————————————————————————————————————————-
(September 15, 2017) Sound is a Wave Production Update & Discounted Program Ad Opportunity!
I have been working hard this week on organizing partnership/sponsorship and advertising opportunities for the show. Here's the scoop on where things are at:
Financial Contributions
We are just about all set to take materials to 6 different businesses/organizations asking for a range of in-kind contributions, cross promotions and financial contributions. If you know of any individual, business or organization that might be interested in providing financial support for this show, please contact me ASAP and let me know who I should speak to. (Bisia at 250.384.1133 or bisia@shaw.ca)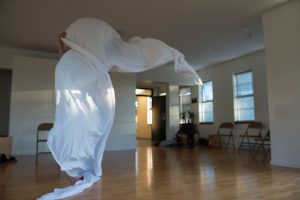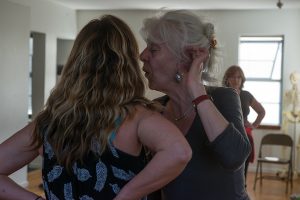 Program Advertising
We have sorted out Program printing costs and advertising opportunities. There will be Full Page, Half Page and Quarter Page display advertising opportunities available. If you know of any individual, business or organization that might like a display ad in the performance program please contact me ASAP. I have a rate card available for interested advertisers.(Bisia at 250.384.1133 or bisia@shaw.ca)
***Discounted Advertising Opportunity***
There is a special "Friends of SoundBody" limited time offer advertising opportunity in the performance program. A Quarter Page (5 x 2 inch) display ad is available for the discounted price of $125 + GST if booked and paid for by September 30, 2017. You must submit a print ready, high resolution digital file of the ad. Graphic design services for advertising are NOT included in the ad price (I have a contact who can give you a quote for ad design if you need it). A limited number of these ad spaces are available so please contact me ASAP if you are interested. (Bisia at 250.384.1133 or bisia@shaw.ca)
Tickets On Now!
Tickets are on sale now! You can purchase them online or direct from the box office at Ticket Rocket!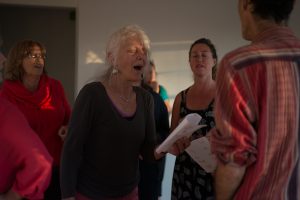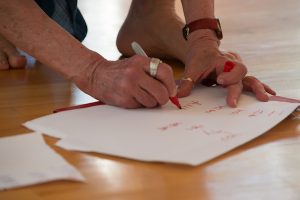 ---
(August 22, 2017) SoundBody Studio is Putting on a Show!
Mark your calendars for November 17 & 18, 2017 at the Metro, and plan to join us for a performance art show titled: "Sound is a Wave." Tickets and additional information will be available soon!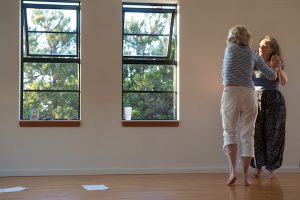 In preparation for the show here's what's been happening…
In June, 25 people came to our Call for Volunteers. Paul Palmer, director and Bisia Belina, creator presented their vision of a show that would showcase the voice and movement work we love so much (and have been doing for 20 years!!!!).
12 of us have committed to workshopping the concepts for 9 original VocalBody arts compositions over the summer months. The rest have volunteered as either Front of House staff at the theatre or have given their support in producing this event. (Thank you to All of You for your commitment, enthusiasm and input into this vision that has been in my brain for way too long!)
We almost have a final draft of the event poster ready to go!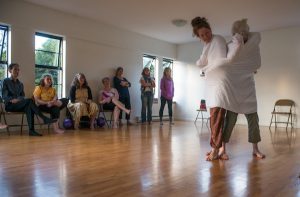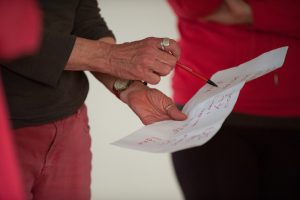 Some additional shout outs as well go out to…
Darlene Arsenault who was our production manager will be contacting Front of House volunteers after august 20. She is leaving our crew and moving to Vancouver (Thank you for getting us going in the right direction!!! Discovering the fullness of you has been a pleasure. You will be missed).
Anita Marshall, always on the search for Clarity, thank you for coordinating all volunteers and keeping us informed, on track and doing it all with kindness and tremendous patience and foresight. You are way more than a volunteer co-ordinator!
Holly Pattison, thank you for coming back into my life and taking thepics of yet another creative project!!
Anna Malkin, main videographer, OMG girl you know so much!!!
And most of all to Paul Palmer, Director, who is my second brand and set of eyes. I couldn't have done this without you!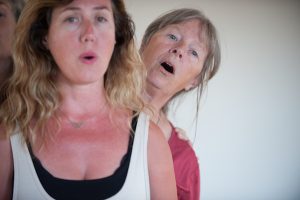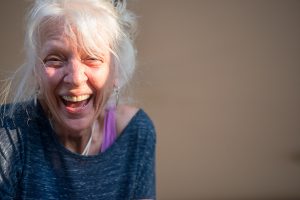 Note: All 9 compositions will be set and ready by end of this month! (2 weeks away)
Official rehearsals begin in September.!!!! Thanks for confirming times with Anita!