NEWS RELEASE:
FLUX Media Gallery presents Nous Sommes– a video art Installation by Bisia Belina and Anna Malkin.
This installation emanates from two earlier performance pieces, Toi Moi and Water, that were created for a larger performative evening, Sound is a Wave (2017). The pieces radiate from experimental, improvisational, vocal sound works made up of multilingual translations.
Nous Sommes concentrates on the essential exercise of You and I (Toi Moi) becoming Us or We, as we work collectively, in a unified way, to protect the indispensable resource of water. Using extensive video projection, the audience is placed into the bigger picture, where their images, shadows and physical bodies are imposed on and incorporated into images and sculptural representations of water.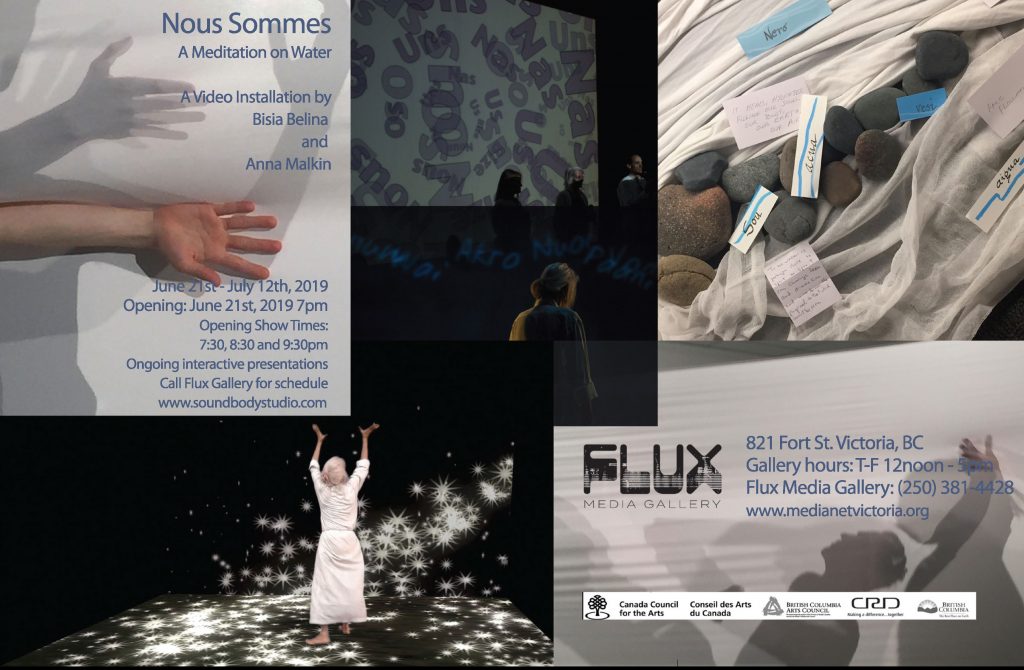 Opening: 7pm Friday June 21st
With performances at: 7:30pm, 8:30pm and 9:30pm (Approx. runtime: 30 mins.)
Cost: Admission is by donation at the door.
Location: FLUX Media Gallery, 821 Fort St.
Exhibition dates: June 21st – July 12th, 2019
Gallery Hours: Tuesday – Friday, noon to 5pm
Opening night presentations of the full video installation will begin at 7:30pm, 8:30pm and 9:30pm. Artists will be in attendance.
Ongoing interactive presentations and classes during the gallery run;
Schedule available at opening or contact Flux Media Gallery
Nous Sommes is part of MediaNet's Greenlight Project.
The Artists and Flux Media Gallery acknowledge that this event is happening on the ancestral and unceded territories of the Songhees and Esquimalt First Nations and also the WSANEC peoples of the Pauquachin, Tsartlip, Tseycum and Tsawout First Nations.
Anna and Bisia from MediaNet on Vimeo.
About the artists
Bisia Belina is an improvisational voice and movement performer and coach and is the founder of SoundBody Studio. www.soundbodystudio.ca
Anna Malkin has been producing and editing independent video for over 20 years. She has worked in the feature film and TV industry for over ten years in Toronto and now works primarily with independent video artists and producers. www.annamalkin.com
For more information, or to arrange interviews with the artists, please contact Curator Catlin Lewis cat@fluxmediagallery.org.
---
VocalBody Arts Classes with Bisia Belina @Flux Media Gallery
Join Bisia Belina Wednesdays June 26th, July 3rd & July 10th from 7:30 pm to 9:00 pm at Flux Media Gallery for a VocalBody Arts Class exploring the fusion of sound, movement and soul into unique improvisational musical compositions. The theme will be water centric and participants will engage with a piece lycra fabric representing the movement and flow of water in our world.
July 26, 2019 (7:30 pm to 9:00 pm) – Bisia Belina will direct and improvise a VocalBody class for singers using lycra
July 3, 2019 (7:30 pm to 9:00 pm) – Bisia will be directing and co-creating with dancers and 3 singers who will engage with the lycra
July 10, 2019 (7:30 pm to 9:00 pm) – Community engagement evening. Details to be announced.
Cost: suggested donation of $15 (per class) to reserve your spot
Pre-Registration Required: Contact Bisia at bisia@soundbodystudio.ca or 250.384.1133 to reserve your spot.