Join Me for VoiceWorks with Bisia ONLINE!
A new offering that is geared towards giving yourself expressive tools to navigate the circumstances that we find ourselves in. These virtual voice and movement classes will help you support your physical and mental health.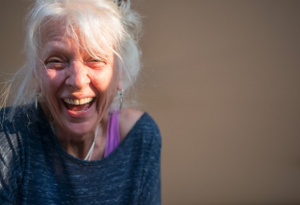 Cost:
$40 for 60 mins
Sessions longer than 60 minutes are charged at a rate of $10 per 15 minute increment.
(introductory rate, subject to change)
Format:
Depending on your access and comfort level with virtual technology we can use FaceTime, Zoom, WhatsApp or HouseParty for our session.

Progression:
We will start the process with 2 or 3 one-on-one personal online vocal coaching sessions. From there we will transition to working together in "vocal online pods," with 3 to 4 singers to a pod.
These are collaborative composition sessions. (Recording device recommended).
Time Slots Available:
11 am, 4 pm, or 7:30 pm
Email for more info or to set up a session: bisia@soundbodystudio.ca

---
Music is the foundation that allows me to help you transform stress into vital energy using body awareness, breath and movement. VoiceWorks with Bisia ONLINE allows a safe, socially distanced option to give yourself tools to support your physical and mental health. Create compositions allowing you to tune in to your body, tune up your voice and compose yourself.

"An emotionally distraught person's body is twisted , contracted and breathless,. You can change a person's emotional state by changing their breathing pattern." ~ Gay Hendricks author of the Art of Intimacy.
This quote has been an inspiration to me for a long time and it supported my belief that improvisational singing and movement are a very accessible tool to help people change their minds. For over 20 years, VoiceWorks has been offering voice and movement fusion drop in classes that have helped people discharge their stress and rebalance their nervous systems. The times they are a changing and so it is with SoundBody studio.
COVID-19, the tragedies in seniors homes across the country, the massacre in Nova Scotia…These are powerful events that can shut us down as we try to absorb them.
Since lockdown began I have been connecting with students online and we are co-creating pieces that are connected to our mutual reality.
This exploration has been uplifting, helpful, reflective, energizing and is providing a space to process the uncertainty. It is not an intellectual exercise it is a creative one.
This offering is here to help you move forward, to reconnect with yourself and find a way to move through the complex emotions that we are dealing with.
VoiceWorks
is about connecting with your emotional state and moving thru it. I
t is
about changing your mood, changing your mind and moving past the isolation and the fear of the unknown that is upon us all.
It is a tool, where the discipline of music provides the framework whereby your unexpressed feelings can be expressed. Where your emotional content is put into rhythm and time, into melody and into movement.
It is a strategy to discharge the charge that is building inside of us.
It is the release valve that is readily accessible to transform the stress that we are all feeling.
Here are examples of the explorations that are offered in the one-on-one sessions:
What if you began with acknowledging what you feel and sang it in the blues style?

What if you changed the tune to a gospel, a spiritual, a rap, a scat?

What

if you took your

'

present emotional content

'

and put it in time?

How would that change you? How would your feelings change?
"Move past the stress, reset your confidence and become curious again.
Express your sound, your movement, your gesture through VoiceWorks.
Let your emotion connect with melody, time, rhythm and space.
And discharge the charge that keeps you locked in and frozen in place."
---
---
TESTIMONIALS
"Working with Bisia has been a 'body' opening experience. As a movement and bodyworker myself, I have always considered myself to be very aware of sensations and movement, but the way that Bisia has incorporated sound, tone and beat to movement has allowed me permission to really tap into my feelings and true desires in a visceral way. This will definitely become part of my everyday practice in order to stay connected to my true self by letting my body and voice compose my message. Thank you Bisia!"
~ Liz
"The heart of Voice Works is still there online. Along with heart, there is connection, the joy of spontaneous creation, and the flow of genuine meaning. It's a delight to know that we haven't lost the chance to connect with each other in meaningful and joyous ways when we meet to make music online."
~ Kerri
"Great working with Bisia one-on-one. Interestingly, I left our visit uplifted and empowered to practice on my own. Sweet treat to receive personal attention and to vocalize with another. Thank you Bisia for expanding your offerings in this way. It really helped me feel less alone during this time of physical distancing.

~ Nicole
"The comfort of the chat, the gentleness of the warm up, Bisia's insight and humour, and the power of the words that I sang as I moved my body made up a complete and wholistic experience. I understood that singing could be a full body/mind experience.
Bisia not only offered me this wonderful first session, she opened my eyes to the possibility of a holistic integrative healing practice. WOW!"
~ Darlene