SoundBody Therapy Method
Through her experience operating a successful private practice as a Registered Massage Therapist since 1986, Bisia Belina has developed her own proprietary method called SoundBody Therapy. It is a system for self care that is accessible, repeatable and effective in managing discomfort and pain. It also merges well with other protocols of treatment.
SoundBody Therapy (SBT) is based on taking cues from a variety of mapping systems that inform the therapist on what type of treatment can follow. Maps to wholeness allow you to see and feel the pattern of constrictions and from there provide the 'fulcrums' that help the body self-adjust and find balance. Working with bones and spaces allows you to reset the proprioceptors and de-stress the strains and pulls in the muscular system. By doing so you can access a local area of complaint with less effort, you can work deeper and more efficiently and integrate the 'part to the whole'
A SBT course offered twice a year and is approved for continuing education credits by the College of Massage Therapists of BC (CMTBC).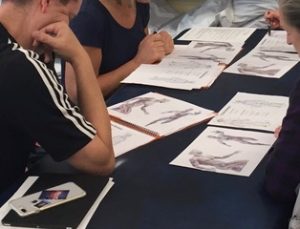 SoundBody Therapy 2-Day Workshop
(Continuing Education credits for RMTs) 
**Method of course delivery is pending as we ensure all COVID safety measures are taken and may include online components.** 
Date: Sat Sept 25 – Sun Sept 27, 2020
> Directed Studies Material sent out on Sunday September 20. 2020
> Online Training : Friday  September 25 (6-8 pm)  
> Live Training:  Saturday  & Sunday September  26 & 27  (9-3 pm daily)
Live Location: 4 Corners Community Collective (1508 Haultain St, Victoria, BC)
Cost: (All prices include GST)
Regular = $460 (Payment deadline Sept 15, 2020)
Repeat Students = $425 (Payment deadline Sept 15, 2020. Repeat students are eligible for full course credits)
Payment options:
Remit E-transfers to: bisia@shaw.ca
Remit cheques to: Bisia Belina 3180 Jackson St Victoria BC V8X 1E3
Cancelation policy:
Course registration may be canceled in writing prior to September 15, 2020. All payments made will be reimbursed, minus a $75 administration fee.
No refund for Cancelations after Sept 15, 2020 (except for COVID related safety issues).  Note: Course may need to be offered online due to pandemic.
Learning Outcomes
By the end of this 2-day course the therapist will be able to demonstrate their ability to:
Identify and work with four diverse whole body-mapping systems.
Work with less effort to achieve a positive result with less resistance from the patient.
Improve assessment time.
Re-integrate an injured part back into the whole
Re-integrate all parts of the body into the whole.
Identify and work therapeutically with the 3 dimensional body.
Affect alignment, balance, weight distribution and increase breath capacity.
Stay curious as they work and engage their patient's ability to sense changes as they take place.
Apply techniques for therapist self care and to teach patients for home care.
Release holding patterns in the body using very gentle and effective techniques.
To register for a SoundBody Therapy workshop contact Bisia at 250-384-1133 or bisia@soundbodystudio.ca.
See all upcoming SoundBody Studio classes and workshops at soundbodystudio.ca/schedule