SoundBody Therapy
SoundBody Therapy is a distinctive method of massage therapy developed by Bisia Belina.
Please note: SoundBody Therapy has been approved by the College of Massage Therapists of BC (CMTBC) for Continuing Education Credits (CEC) Cycle 12. (14PE).
Professional Development training is available throughout the year for:
Registered Massage Therapists
Yoga/Pilates/Fitness Instructors
Community Health & Wellness Workshops
For more information about SoundBody Therapy training opportunities and workshops visit our Schedule Page or contact Bisia Belina at bisia@soundbodystudio.ca or 250.384.1133.
---
SPRING 2019 TRAINING – *CANCELED*
*Next Course will be offered in September 2019
What: SoundBody Therapy 2-Day Workshop
Where: West Coast Collage of Massage Therapy (#100-818 Broughton Street, Victoria B.C.
When: Coming September 2019. Details to be announced. Contact Bisia Belina at bisia@shaw.ca or 250.384.1133 for more information.
Cost:
Early Bird Price – Register before March 1, 2019 and SAVE!
$425 = Students & RMTBC Members
$450 = Non-Members
Regular Price – Register after March 1, 2019
$450 = Students & RMTBC Members
$475 = Non-Members
*Registration must be paid in full. Prices include GST.
Cancellation Policy:
Before March 15 – Registrations cancelled before March 15 will receive a full refund minus a $25 administration fee.
After March 15 – Registrations cancelled between March 15 to April 6 will receive a 50% refund.
No refunds after April 6.
Details: For more information or to register contact Bisia Belina at bisia@shaw.ca or 250.384.1133.
---
SoundBody Therapy Course Description

SoundBody Therapy (SBT) with Bisia Belina, RMT is about accessing the 3-dimensional body by Sensing the Flesh, Bones and Space of your Anatomy.
SBT is based on taking cues from a variety of mapping systems to inform the therapist on what type of treatment can follow. Understanding the 'whole body view' becomes a tool to decrease pain in a local area.
Maps to Wholeness allow you to see and feel the pattern of constrictions and from there provide the 'fulcrums' that help the body self-adjust and find balance.
SBT is a culmination of the insights over a 30-year active practice. They have coalesced into a form, a transferrable and repeatable pattern that merges well with other protocols of treatment.
Whole Body Mapping Systems:
Anatomical Lines and Planes
Neurovascular and Neurolymphatic Points

Myofascial Tracts
Meridian lines
Polarity Gravity Lines, Polarity Relationships

Arcs, Curves, Triangles
Torques, Pulls, Strains
Fundamentals that you know already:
Access the body through the Nervous System, specifically the sensory and the proprioceptors
Work distally to the area of complaint.

Work above and below the area of complaint.
Work superficial to deep
Work with bones and spaces to reset the proprioceptors and de-stress the muscular system
Integrate often to reconnect parts to whole
Methodology involves accessing and connecting the 3-dimensional body through:
Flesh, Bones and Space routines (Body Wash)
Bilateral palpation which allows for comparison between sides and informs which Mapping system gives primary access
Method: Stationary and moving hands

Alignment relationships using 2 point / 3point holds to access
Lines and Triangles and Diamond Weave

Pattern, Arcs, Domes and Crossovers
Participants will be Sensing and Landmarking their own anatomy before they apply the principles and observations learned on their partners or clients.
This learning then becomes a method for therapists to self-treat as well as a possible home care system for their patients
LEARNING OUTCOMES
By the end of this 2-day course the therapist will be able to demonstrate their ability to:
Identify and work with four diverse whole body-mapping systems.
Work with less effort to achieve a positive result with less resistance from the patient.
Improve assessment time.
Re-integrate an injured part back into the whole
Re-integrate all parts of the body into the whole.
Identify and work therapeutically with the 3 dimensional body.
Affect alignment, balance, weight distribution and increase breath capacity.
Stay curious as they work and engage their patient's ability to sense changes as they take place.
Apply techniques for therapist self care and to teach patients for home care.
Release holding patterns in the body using very gentle and effective techniques.
To book a SoundBody Therapy Workshop contact Bisia Belina at bisia@shaw.ca or 250.384.1133.
The next SoundBody Therapy Training session will take place in Spring 20. For details visit our Schedule Page or contact Bisia to discuss.
---
Bisia Belina (Bio)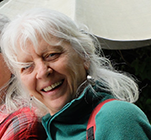 Bisia Belina is a Registered Massage Therapist that has operated a successful private practice since 1986. Her formal studies and personal observations have resulted in this protocol of SoundBody Therapy. She has developed a system for self care for her clients and students that is accessible, repeatable and effective in managing discomfort and pain. SBT is a culmination of the insights over a 30-year active practice. These insights have coalesced into a form, a transferrable and repeatable pattern, that merges well with other protocols of treatment. In 1998 Bisia founded SoundBody Studio where she teaches body awareness courses and voice and movement fusion classes and workshops.
---
STUDENT TESTIMONIAL
"I participated in both Bisia's SoundBody Therapy course and Sensing Anatomy workshop. Both the class and workshop focused on bone and joint spaces, which are our deepest and most sensitive bits. I found the Sensing Anatomy Workshop, where we worked mostly on our own bodies, to be a great reinforcement of the 2-day SoundBody Therapy course for RMTs. My massage therapy training taught us not to stray from the soft tissues. All my courses since have taught gentle movement of bones and joints; the perfect complement. Bisia adds a simpler possibility and that is to FEEL. Feel the edges of the bones, feel the joint spaces, follow them gently, move the joints gently. The RMT course was more technical, but this modified very well to self treatment in the Sensing Anatomy session for everyone. Both courses heightened anatomical awareness and helped restricted and troubled areas to release. Since it is so difficult to be active and passive at the same time, it is particularly useful to have a self treatment modality that does not involve applying pressure.
Many thanks, Bisia!"
~ Lilija Gulbis RMT