Teacher Training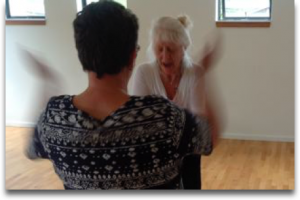 The SoundBody Teacher Training Program is designed to move individuals that already have some experience and interest in SoundBody techniques and methodology from being merely participants in such workshops, courses and offerings, to becoming active teachers and facilitators of their own offerings.
It is an ideal continuing education training opportunity for students that are interested in merging creative and stress management components into their fields of focus.
An excellent fit for healthcare providers, musicians, singers, dancers, physical health trainers, healing arts practitioners and movement specialists that see SoundBody methodology as a natural progression for developing their own work and vision.
The SoundBody Teacher Training Program is fluid and adaptable. Training can be organized in a very structured and linear development program, or it can be adjusted and modified to meet the skills, needs, abilities and interests of each student. When you commit to the process of becoming a SoundBody teacher, we design and develop a training format that gives you a great deal of support and many opportunities to practice your skills, build your confidence and customize your experience.
Overall it is a 5-year program. At the end of the program, each student will have become a certified SoundBody teacher who can lead SoundBody offerings.
Teacher training involves:
Learning the fundamental components of SoundBody methodology
Personal development of relevant body, voice and movement centered skills
Establishing a solid foundation in VoiceWorks skills and principles
Passing these skills on to others
Making the gift of self-expression accessible and enjoyable
Contact SoundBody Studio for more information about the Teacher Training Program. Call Bisia at 250-384-1133 or email bisia@soundbodystudio.ca.
See all upcoming SoundBody Studio classes and workshops at soundbodystudio.ca/schedule