Massage Therapy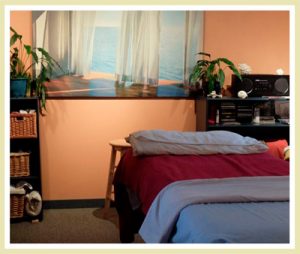 Bisia has been a Registered Massage Therapist for 30 years. She offers individual massage therapy sessions, self-care classes, workshops and professional development training.
Clients can book Bisia for a personal massage or group workshop/class, or attend one of her quarterly Sensing Anatomy: Flesh and Bones workshops.
Bisia participates in continuing education courses in a variety of protocols. Her techniques include: Swedish, Acupressure, Polarity Gravity Lines and Myofascial Techniques.
Bisia has also developed SoundBody Therapy, a distinctive method of massage. SoundBody Therapy training opportunities and continuing education workshops for Registered Massage Therapists are available throughout the year. Contact Bisia at bisia@shaw.ca or visit her Schedule Page for more details.
Bisia also offers Professional Development opportunities and Community Wellness Workshops for a variety of audiences. VoiceWorks and VocalBody Arts Teacher Training is also available.
---
Therapeutic and Relaxation Massage treatments vary in length:
45 minutes/$85
60 minutes/$110
90 minutes/$150
Bisia also offers self care BodyWork training (individual or small group):
Initial session is 45 minutes/$60
Follow-up sessions are 30 minutes/$50
All prices include GST.
Appointments can be made during the following times:
Tuesdays: 12:00 pm to 3:00 pm (3:00 being the last appointment)
Thursdays: 12:00 pm to 4:30 pm (4:30 being the being last appointment)
To make an appointment, please phone 250-384-1133*
*If you are a returning patient, you may also contact Bisia via email.
Click here for location and map.
As Bisia is a Registered Massage Therapist,
your insurance coverage will cover partial
or full fee reimbursement depending on your plan.
Please note:
There is a cancellation fee for missed appointments. If you need to change or cancel your appointment,
please give notice 24 hours before your appointment time otherwise a cancellation fee will apply.